HOLIDAY OUTREACH GRIEF SUPPORT
Pumpkin spice lattes. Steaming hot cocoa. Storefronts dressed in holiday style. 'Tis the holiday season, a season filled with gaiety and Hallmark moments—unless you're missing someone you love.
The HUGS program—Holiday Understanding Grief Support—is a successful interactive program that provides comfort and support during one of the most difficult times of the year.
PROGRAM BENEFITS:
HUGS is a workshop, sharing circle, and candlelight ceremony all rolled into one special event. Hosted by your organization and led by IGI staff, HUGS is a community outreach program that supports your families over the holidays.
INCLUDES:
Helpful workshop
Sharing circle
Candlelight ceremony
We provide staff, workshop handouts, candles, music, marketing material, press release, and more—everything you need for a successful event.
Your organization receives the recognition while your families get the support they need. Organization benefits:
A positive community impression
Builds relationships
Creates referrals
POSITIVE . . . I've watched our program attendance grow year to year from just a few people to rooms filled with hundreds. The impact is huge!

LINDA FINDLAY
VP of Aftercare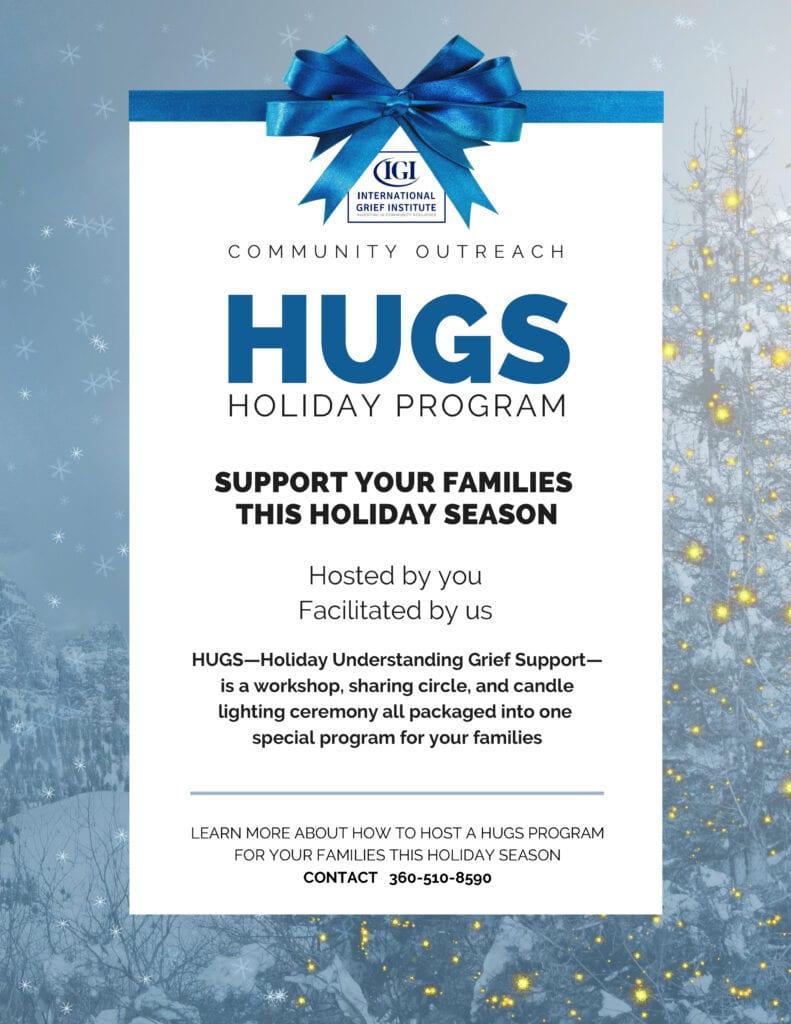 Holiday dates fill up fast!
Call soon to get your community outreach HUGS program on the calendar—and make a lasting impression for the families you serve.

CONTACT:
[email protected]
West Coast: Lynda Cheldelin Fell | 360-510-8590
East Coast: Linda Findlay | 315-725-6132
---
HUGS HISTORY
HUGS was created over 10 years ago by aftercare specialist Linda Findlay in response to organizations who wanted to do something for grieving families but didn't have the staff or tools. Today, HUGS has partnered with hundreds of organizations across the nation to provide a private label program that's helped thousands of families during a difficult time of year.
---